Glamp Stitchalot 2015
We're excited to announce a brand new type of camp with our first event, taking place in November 2015.
Pink Castle Fabrics presents to you Glamp Stitchalot!
Welcome your Glamp Stitchalot counselors...
Tula Pink
Tula Pink is an American textile designer and quilt maker with a dark sense of humor buried in a  sea of print and pattern.  She plays with images the way a poet plays with words, turning innocuous traditional designs into mischievous little critters.  Whether it's a head of hair teased into a pirate ship or a damask molded into a frog, Ms. Pink can wrangle any shape into her own candy-colored fantasy of creature delights. Tula's love affair with textiles began early, and an obsession with sewing soon followed.  It was apparent to everyone but Tula that she would eventually be designing the fabric herself.  A few years and twelve fabric collections later, design is her one and only passion. Tula began quilting in an effort to use up her ever-growing stash of fabric so she could justify buying more.  Sixteen years later she has a lot of quilts and more fabric than when she started.
Katy Jones
      
Katy is a modern-traditonal quilter who resides in West Yorkshire in the UK. She's loved fabric since she was a child but only began quilting and blogging in 2008. In 2010, she co-founded the popular digital quilting eZine Fat Quarterly. Katy currently hosts her own series on QNNtv.com, "Quilt Monkey". Katy's love for teaching brought her to author two books with Martingale and has contributed to many others. In spring of 2014, she was named editor of the UK magazine "Quilt Now". Most recently, Katy has added the title of fabric designer to her resumé with her collection Priory Square being released through Art Gallery Fabrics's Limited Edition line in October 2014.
 Sarah Fielke
Sarah is an award winning quilt designer. In her 15 years in the quilting industry, her five best selling quilt books have sold over 100,000 copies worldwide and have been translated into 5 languages. Her first book, Material Obsession, is widely described as having been at the forefront of the Modern Quilting movement, and is a staple in many quilter's libraries. Sarah's is often known for her eye for color, hand work (appliqué and hand quilting), and her fabric collections with Lecien and most recently her collection "Enchanted" Windham.  Sarah's quilts have roots in both modern and traditional quilting, making her a firm favourite with quilters new and old. She describes her quilts as "contemporary traditional".
Alison Glass 

Alison Glass is a surface and pattern designer and lives in Virginia. She lives with her super family, husband Chris, and kids Anna and Jack, who encompass her biggest goal of being there for and doing well by them. Alison adores color and pattern, and loves designing fabric the most as a lovely combination of these things. A close second is mixing fabrics in distinctive ways, and particularly hand stitching and quilting, and the act of creating artisan quality, cherish-able goods. She is a big fan of simplicity and growth, and thinks that trying hard, with an open attitude, is most of doing. Alison is a fan of the phrase 'Live in the New,' meaning: acknowledging the past, and more so embracing the current reality, and moving into it the new, the future, focusing on what is present: people, work, ideas and what can be accomplished. Alison is fabric designer for Andover Fabrics, publishes sewing patterns under the Alison Glass Design brand, has product collaborations with Aurifil and Weeks Dye Works, and is an author with Lucky Spool Media. Please visit her website, www.alisonglass.com for more information and inspiration. 



Jeni Baker
Jeni Baker loves nothing more than to be surrounded by fabric. She graduated with a degree in Marketing and Studio Art, and is currently living in Wisconsin with her pet bunny, George.  She is a licensed fabric designer for Art Gallery Fabrics, and has a keen eye for mid-century modern design. She self-publishes sewing and quilting patterns for the everyday sewer. Jeni regularly shares projects and tutorials on her blog, In Color Order.  She is always looking for ways to be creative, and simply enjoys living a handmade life. In addition to sewing, her hobbies include knitting, photography, baking, and collecting vintage kitchenware and linens. 
Violet Craft
Violet was born in the Old West where she pursued her education in business and finance. The start of her career in software development brought her to the Pacific Northwest where she bagged her man, feathered her nest and stitched it all together. Drawn to art, craft and make-ing, the birth of her first daughter compelled her to ditch her corporate career and seek out her passion. Her children's apparel line, Kung Fu Bambini, reached boutiques in 2004. Her first fabric collection debuted with Michael Miller Fabrics in Spring 2011 along with the first Violet Craft Distinctive Lifestyle Sewing Patterns. She teaches sewing and design workshops which are often influenced by her awesomely nerdy former career.
Plus your hostesses...
Brenda Ratliff - Pink Castle Fabrics /
Just a Bit Frayed
Hayley Grzych - Pink Castle Fabrics / gilded thread.
When is it?
November 12-15, 2015 (Thursday through Sunday)
What is Glamp Stitchalot?
Glamp Stitchalot is a whole new take on the camps we've held in the past. We're bringing you two to three times as many teachers and tons of hands-on instruction. Plus, the whole weekend is held at beautiful Kensington Court, a luxury hotel in Ann Arbor, Michigan.
You will arrive at Kensington Court on Thursday afternoon for check in at 4 p.m. That evening, you will join other campers and our fabulous teachers for a welcome mixer with a strolling dinner. Thursday's events will be casual and low-key. We understand it's a travel day for most people so we'll just be relaxing and preparing for the fun ahead!
Friday and Saturday will start with breakfast catered by the hotel and then we'll jump right into classes. This is where things diverge from the system of our regular Camp Stitchalot. Campers will be divided into smaller groups for instruction and throughout the weekend, teachers will rotate from group to group for classes (more about that below). Each day will include three classes with brief breaks and one opportunity for a catered snack lunch and coffee break midday. 
After classes, you'll get a short break to go back to your room before a plated dinner. After that, we'll have plenty of fun evening events planned. We can't tell you what all those are, because what's the fun in that?! In addition to dinner and parties, our sewing room will be open as late as you'd like, if you feel like continuing class work or just sewing your own projects.
Sunday morning, you'll have time to finish just a little bit of sewing, have a quick and simple breakfast, and pack up before checkout. After a couple long days of fun and sewing, we'll all be ready for a laid back day. 
Menus for the weekend will be determined at a later date. We'll send out a survey closer to the event date for the campers' meal choices, info on dietary restrictions, etc. 
What classes do we take at Glamp Stitchalot?
Your time at Glamp will be spent making a mystery, choose-your-own-adventure style medallion quilt designed by Tula Pink and Brenda Ratliff in collaboration with the other teachers. The pattern will be exclusive to Glamp so this is your only opportunity to get it!
The quilt will be broken down into six parts or techniques, each to be taught by a different teacher. Through the weekend, teachers will rotate from group to group. With limited time in each class, it's unlikely you'll completely finish every part but you'll have all the skills you need to finish the quilt. That's where the choose-your-own-adventure aspect comes in-- everyone learns the same things and after camp, we get to see how you put it all to use!
Fabric requirements will be sent out about six weeks before Glamp Stitchalot, giving you plenty of time to get what you need!
Where is Glamp Stitchalot held?
Kensington Court
610 Hilton Boulevard
Ann Arbor, MI 41803
Detroit Metro airport (DTW) is the closest airport to fly into. If you are flying in for the event, Kensington Court is located about 25 miles west of DTW. The hotel provides a shuttle service through Air Ride to and from the airport for approximately $12 each way. More info on Air Ride shuttles here. 
How do I get a ticket to this awesome event?
GLAMP STITCHALOT IS OFFICIALLY SOLD OUT. But you can be put on a waiting list for openings by emailing hayley@pinkcastlefabrics.com with your contact info.
You have a couple options! You can choose to buy your ticket in full up front for $550 or select a payment plan. Twelve-month payment plans will only be available until November 1, 2014 (because after that, we'll be less than 12 months out from the event). Six-month plans will be available until June 1, 2015.
On the 12-month plan, you will be charged approximately $50 each month. On the 6-month plan, you will be charged approximately $96 each month. 
Tickets for Glamp Stitchalot include your six classes with our awesome teachers as well as six plated meals (three breakfasts and three dinners), midday snack lunch, and all those fun, surprise goodies we can't tell you about yet! Sleeping accommodations are not included with our ticket price.
*Glamp Stitchalot tickets are transferrable but nonrefundable.*
Booking sleeping rooms will be up to you. You're more than welcome to book a room all to yourself or you can share with friends. If you're coming alone but would like to share a room, we'll do the best we can to help you find a roommate. If you are local, you are not required to stay on site overnight. You're welcome to sleep at home and come in each day, just remember that you are paying for breakfasts and evening activities so it will likely just be most convenient for you to stay at the hotel. 
Kensington Court has been kind enough to get us a special room rate for the weekend of Glamp Stitchalot-- only $89 per night (plus tax). You have until October 12, 2015 to book your room at this lowered rate! While making your reservation, you will be asked to provide credit card information but you will not be charged until the weekend of the event. 
**When booking your room, be sure to state you're with PINK CASTLE FABRICS to book in our block of rooms!!**
Click here to book a room at Kensington Court!
We even made a fun button for you to share on your blog if you're going!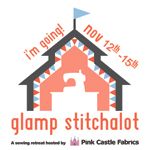 For information on sponsorship opportunities, please email hayley@pinkcastlefabrics.com about participating in our event.